Slippery floors Solutions
A universal problem, a panel of tailored solutions
Since each material is unique, GLISS'GRIP offers specific products based on the type of surface and the intensity of traffic. After a long process of research and development, GLISS'GRIP now offers products for the treatment of all types of mineral or other surfaces. Each product has its own specific features , allowing it to secure prefectly all types of floors. Only your Authorized Applicator GLISS'GRIP can advise you effectively on which product to choose, according to your specific problems and requirements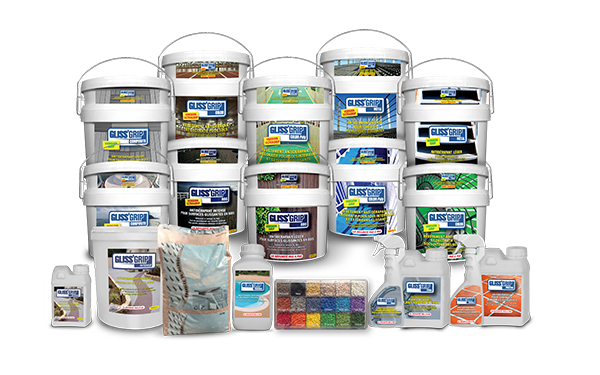 GLISS'GRIP products are used both indoors and outdoors and are designed to fit a variety of materials: tiles, sandstone, limestone, granite, marble, polished concrete, glazed surface, wood, plastic floors ...
GLISS'GRIP is the ideal treatment to deal with lobbies, porches, stairways, hallways, kitchens, canteens, showers, bathrooms, locker rooms, pool decks, hotels, shopping spaces, retirement homes, communities, hospitals, schools, food plants ...
Whatever the floor and its problems, GLISS'GRIP is THE solution .
Specifically designed for natural stone or tile, and used to avoid any alteration of their appearance. Works on materials such as granite, marble and tiles, either glazed or not. Can also be applied on stone. Can be implemented indoors or outdoors.
Exclusively designed to treat the enamel of baths or showers. To secure acrylic bathtubs and shower trays, GLISS'GRIP Metal ® can be applied, as its grip also allows perfect adhesion with acrylic.
Secures all types of woods from which are made decks, pool surrounds, walkways, stairs ...
This product two-component epoxy can make metal surfaces like the rungs of ladders, scaffolding, truck tailgates anti-slip. To treat surfaces like manhole covers or other road or pavement, it is advisable to use GLISS'GRIPIntensive®
Two-component epoxy paint of high quality in which are integrated organic or mineral fillers. Ideal for securing parking floors, play areas, loading docks, as well as basements, laundries and any area requiring an anti-slip floor in a decorative color.
The GLISS'GRIP Color ® solution comes in 25 colors.
Anti-slip solutions made of an epoxy base, a mineral filler of variable size and color, and an epoxy coating designed to "close" the surface, to facilitate cleaning and protecting the surface while providing a powerful anti-slip effect. Designed for soils subjected to heavy traffic, for disabled access, factories, warehouses or storage facilities, pedestrian areas, markets, fishmongers ... GLISS'GRIP Intensive® solutions can also be used on farms to keep animals or caregivers from slipping, while protecting the concrete surface.
Coating made of epoxy and of aggregated colored minerals, specially tuned to treat the areas made of concrete surrounding swimming pools. GLISS'GRIP Pools ® is a particularly effective non-slip decorative coating. With GLISS'GRIPPools ®, we can achieve any kind of colorful patterns while ensuring the safety of all.